App Promotion Summit is the #1 destination for the leaders of the global app ecosystem to come together to learn, network and drive growth.
App Promotion Summit has been at the centre of the app ecosystem from its very infancy in 2013 – we were the first, we set the bar and we keep on setting it. We're proud of that.
App Promotion Summit was created with one objective: to facilitate progress. History shows that we have achieved that – but we're not resting on our laurels.
This is conferencing, in its purist form. Attendees absolutely love it. We are going to keep pushing boundaries, keep enabling relationships and keep driving growth.
WANT TO GET A FEEL FOR WHAT TO EXPECT ON THE DAY? CHECK THIS OUT:
HERE'S THE TYPES OF COMPANIES THAT YOU'LL BE MIXING WITH: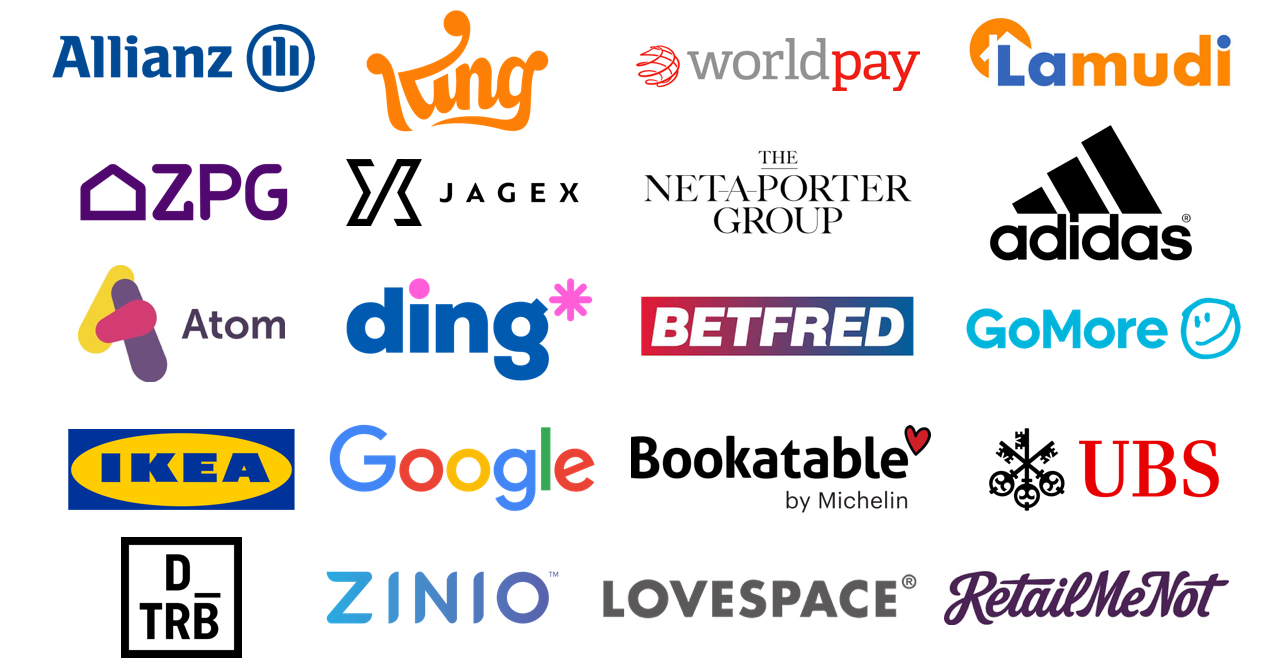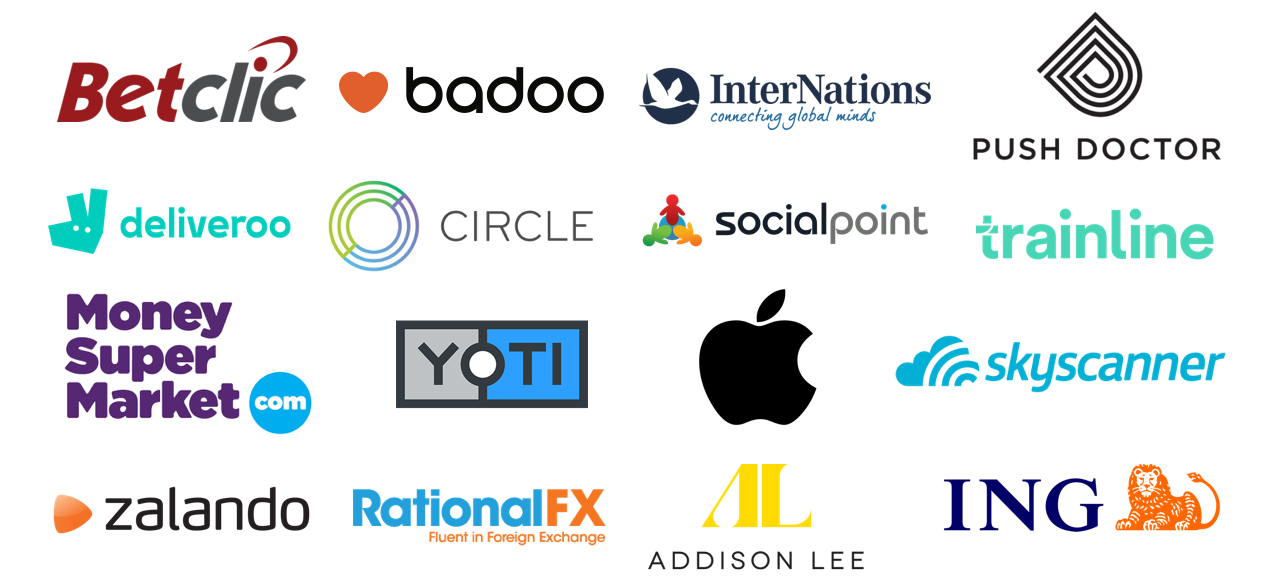 AND HERE'S WHAT THEY'VE BEEN SAYING ABOUT THE EVENTS THEY ATTENDED SINCE WE STARTED IN 2013:
A SELECTION OF ATTENDEE TESTIMONIALS:
"THOROUGHLY ENJOYED THE RANGE OF HIGHLY INTERESTING TALKS AND WORKSHOPS, ESPECIALLY THE GREAT OPPORTUNITY TO NETWORK WITH SO MANY LIKE-MINDED PEOPLE."
"GETS BETTER EACH YEAR AS KNOWLEDGE FROM ONE YEAR BUILDS ON TO THE NEXT."
"I LOVED THE EVENT. A LOT OF VERY GOOD NETWORKING."
"APS LONDON WAS A GREAT EVENT. I THOROUGHLY ENJOYED IT!"
"VERY ENJOYABLE DAY – TALKS FROM APP COMPANIES WHO HAVE EXPERIENCED STRONG GROWTH IS SO HELPFUL."
"GREAT CONTENT THAT STAYS ON TOP OF WHAT IS HAPPENING ACROSS THE INDUSTRY."
"APP PROMOTION SUMMIT IS THE BEST WAY TO IMPROVE YOUR APP MARKETING AND ANTICIPATE TRENDS."
"APS IS BY FAR THE LEADING MOBILE MARKETING SUMMIT FOR YEARS."
"BEST MOBILE CONFERENCE EVER."
"THIS IS THE BEST 8 HOURS SPENT, LEARNING AND UTILIZING NEW RESOURCES TO LEARN AND GROW MY NEW BUSINESS."
"SIMPLY: YOU MUST PARTICIPATE IF YOU ARE IN THE MOBILE APP INDUSTRY!"
"GREAT CONFERENCE AS ALWAYS.  NO MATTER HOW EXPERIENCED YOU ARE, YOU WILL ALWAYS PICK UP SOME INSIGHTS."
"THE BEST MOBILE GROWTH EVENT IN EUROPE."
"APS LONDON COMBINES POWERFUL MOBILE STRATEGY AND MARKETING TIPS INTO A ONE-DAY FORMAT. COMPACT AND INSIGHTFUL."
"I ENJOYED APP PROMOTION SUMMIT VERY MUCH! SO MANY INTERESTING INSIGHTS AND LOOKS INTO THE FUTURE. SIMPLY PUT: AWESOME!"
"APS WAS AN AMAZING EVENT. THE INSIGHTS I GOT WILL DEFINITELY HELP ME IN MY EVERYDAY WORK."
"THANK YOU SO MUCH FOR ORGANISING AN ABSOLUTELY FANTASTIC DAY – I FOUND IT INCREDIBLY INFORMATIVE AND WILL DEFINITELY ATTEND IN THE FUTURE."
"APS HAS BECOME THE 'MUST ATTEND' EVENT FOR PROFESSIONAL MOBILE APP MARKETERS."
"THE MOST INSIGHTFUL APP EVENT OF THE YEAR."
"THE LOCATION, ORGANIZATION AND SPEAKERS WERE AWESOME."
"MORE USEFUL THAN WWDC."
"THANK YOU AGAIN FOR HOSTING SUCH A WONDERFUL EVENT. THE QUALITY OF CONTENT AND ATTENDEES WAS PERFECT AND MORE THAN MET OUR EXPECTATIONS."
"SUPERBLY RUN, GREAT CONTENT AND GREAT PEOPLE!"
"IT WAS A GREAT EVENT AND AN AMAZING LOCATION. WITH WHAT I LEARNED WE WERE ABLE TO GET OUR APP INTO RANK 6 IN GOOGLE PLAY TOP CHARTS."
"I WAS REALLY IMPRESSED BY APP PROMOTION SUMMIT! THERE WAS EASILY €10 MILLION OF MOBILE ADVERTISING BUDGETS IN THE ROOM. I WOULD RECOMMEND MOBILE AD PLAYERS TO TAKE NOTICE AND PARTNER WITH THE GREAT ORGANISERS."